T.V.O.D.TM for August 2002

TVOD.com presents New York City, America …
and the world. This IS t.v.o.d.
---

Thursday, August 1 and I have an appointment with the Dean of my graduate school. His suggestions are quite focused; he sees my resume as I do, as one without a clear center. I'm feeling so lost.
At 6 pm, we go to Zito's East Restaurant for dinner; it claims to make one of the 50 best pizzas in the world. We hadn't been in awhile. Bryan has a tomato and onion salad followed by the penne special with broccoli and chicken, while I have a salad followed by chicken Sorrentino (pounded breasts with eggplant, prosciutto and mozzarella cheese, and covered in a spicy tomato sauce). Quite good, actually.
---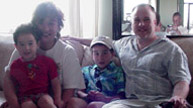 Friday, August 2 and Bryan is up and out by 8 am. I clean up and around 9 am the doorbell rings with the appearance of Bill and Alice Abbate, along with Zack and James. We go over to the Bon Vivant diner near Grace Church and talk about Jeff and Alli (and their impending marriage, we think) and J.G., who is doing well and expecting a child in the fall.
By 11 am, they're on their way and I get ready for Kate Barber, Matty and Paul's receptionist. Well, she's an absolute delight and on her way to teach "American" English to a small village in Honduras.

After a gift of a photo of Matty and Paul, we take a walk around the East Village, particularly St. Mark's Place and Tompkins Square Park, before ending up for pina coladas at Pangea at 6 pm.
But it's too early for dinner, so we're back at the apartment for the arrival of the most severe thunderstorm we've seen or heard all year! Welcome to New York, Kate!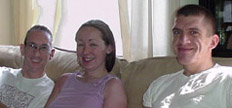 At 8:30 pm, we brave the elements, getting sopping wet on our way back to Pangea and a long dinner. We start with appetizers of curried potato croquettes, fried calamari and garlic spinach, along with cosmopolitans.
The main course consist of Moroccan chicken for Kate, peppercorn steak salad for me, and penne with chicken and mushrooms for Bryan. After another round of drinks, we split a flourless chocolate torte with espresso and we're back in the apartment by midnight.
---

Saturday, August 3 and Kate is on her way to Honduras by 6 am. The only highlight of the day is the street fair on the south end of Washington Square Park. I listen to part of Bedrich Smetana's Ma Vlast, with Rafael Kubelik conducting the Czech Philharmonic Orchestra, which reminds me to buy it. His readings with the orchestra are peerless historic recordings from 1937 and 1945. This cycle of symphonic poems, translated as "My Country" is one of the most inspiring pieces of the classical canon.
[Redacted] During the Nazi occupation, Rafael Kubelik helped the orchestra overcome all obstacles and established himslf as a real personality of musical interpretation. The Communist coup of 1948 changed his life. He did not want to live under a totalitarian regime and refused both persecution and lack of freedom; he immediately emigrated. After the change in political conditions in 1990, he returned and took up the baton once more and conducted Ma Vlast during the opening concert of the Prague Spring in 1990. He was a living example of resistance to communism.
---

Sunday, August 4 and frittatas for brunch at In Padella. An interesting Italian restaurant which unfortunately has not always properly rewarded us. Although they did serve us dinner on the night of 9/11 last year.
I spend six hours creating my final project for my computer class. The rest of the evening is relaxing, even going to the new Asian market for dinner items.
---
Monday, August 5 and it's as gray and dreary as my emotions. We're awaiting thunderstorms ... and specifically our cell phones. These were a good purchase as the two-year rule has applied. For me, that means that the phone is half the size and half the weight with twice as many features.
---
Tuesday, August 6 and Bob Molloy writes us from the Aleutian Islands of Alaska to say that he's just begun a new web page for Magadanskaya Vodka ("MAGGY") Vodka.

Guerrilla word-of mouth marketing and the internet are about all we can afford for promotion at this time. This is the chapel on Lenin Street in Magadan that inspired the bottle design; it is dedicated to people who suffered in Stalin's gulag. Some of our business associates are children of political prisoners who survived to be freed after Stalin's death. We are doing the kick off in California in September, then go to Magadan, Russia at the beginning of October for critical negotiations on The Big Picture. There will be snow on the ground and it will be early winter in Siberia. I pray that the USA/Bush Administration does not do something stupid like attack Iraq and that the terrorists stay home during that time, so I can do business and return.
My law business is steaming along and Fred and I are working on start up of a new third business. He has created some outstanding new recipes for seafood products, so we're looking at manufacturing them. They will be every bit as good as the vodka is, made from 100% salmon, no animal additives, no preservatives, all good Mega 3 fats, and tasty. Slán leat – Irish Gaelic for "Farewell" (with you), "see you, too."
---

Wednesday, August 7 and my penultimate Publishing Law class. This is a good opportunity to say how much I've enjoyed this course. For future reference, I will get an A on my final paper, which will balance out the disappointing grades that I received on the two exams. I'd forgotten how much I hate taking exams! So my final grade will be a B+, which still makes me happy considering it's a law class about copyright, trademark, publicity and libel, things in which I am actually interested.
Our professor, Peggy Garry, works for John Wiley & Sons, the publishing house, and is a huge fan of Bob Dylan. So in my paper, all of the "fake" names were members of Bob Dylan's Never Ending Tour Band, just to amuse her. I didn't want to say anything about it before the class ended, so as not to curry favor, but now that it's over, it should be ok. Afterwards, a bunch of us go to Josie Woods Pub to celebrate Sarah's 24th birthday. Boy, these people are young!
---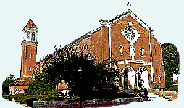 Thursday, August 8 and I go to Cranford for the evening as planned. Coincidentally, my parents pass me as I'm walking to their home from a ten-minute break at Saint Michael's Roman Catholic, the church in which I attended Sunday school and was confirmed.
In comparison to the shabby condition of Trinity Episcopal, Saint Michael's is in pristine condition, having just undergone a multi-million dollar face lift while still utilizing the stones and statues of the original. It was calm and peaceful, and if it weren't for politics, I'd probably still be there! Anyway, mom made cavatelli and broccoli rabe before I went to visit Jim and Jamie.
---
Friday, August 9 and instead of taking the bus or train back to the city, I borrow my father's latest vehicle, a 1994 GMC pick-up! Now, my mom has her Oldsmobile sedan and he already has a new Tahoe, luxuriously appointed. But this is just for running around and it brings a smile to my face while driving it, much as it does to his.
Back at the apartment, Bryan asks if I'd like to meet him at work and walk to the West Village; he has to meet Ameen, who's moving to Portugal, for a drink. We have a couple of drinks at the Hangar until we all meet at Pieces.
---

Saturday, August 10 and we're off to see Grant's Tomb before brunch at Nacho Mama's, which wasn't bad. He wants to walk to South Street Seaport. The scheduled street fair seems to be nowhere in existence, but we have a quiet and pleasant walk.
The rest of the day is taken up with the parish newsletter with the exception of an hour doing research at Barnes & Noble. Most of the larger publishing houses have religious imprints; there are two small houses, Crossroad and Continuum, that have a variety of books that impress me.
---

Sunday, August 11 and one more month until the one-year anniversary of the bombing of the World Trade Center. Artist Patti Smith created a series of silk screens with the names of those who perished along with quotes from inspirational sources. This painting is South Tower: The Kingdom of God is Within You. She writes,
"I think of Picasso and how he reacted to the bombing of Guernica. How he translated his pain and horror into a monumental work that moves and teaches us to this day. I return to my wall."
My parents are nice enough to come in to pick up the truck, saving me the trip. My father needs to walk around Little Italy; the area has been reduced to three blocks of Mulberry Street, but on the weekends it's closed to traffic so people walk up and down, getting hailed by any and all maitre'd to get you into their restaurant. Three old Italians smoking cigars suggest Il Cortile to us so that's where we wind up.
---
Monday, August 12 and Bryan is 33 years old. It's a quiet birthday, I continue work on my final project for my programming class. I believe my project, Ambrose-Anthony, falls in about the middle of the pack. My final grade for the course is a B-, just enough to keep me quiet and let it go.
Bryan and I meeting for dinner at MaryAnn's where we split a pollo adobo and a couple of margaritas before stopping at Dick's for a Jaegermeister and then the Phoenix for the same. I fall asleep to Jay Leno (with Moby and Bowie).
---
Tuesday, August 13 and a parishioner of Trinity, Cranford had written me about the pledge of allegiance, to which I responded:
I bet you don't remember (no, now that I think of it, it happened in 1957 or 1958) that the pledge didn't have the phrase "under god" in it. In fact, did you know the complaint around that time had nothing to do with the deity at all. Most of the people who objected to the addition did so because they knew the pledge by rote. Adding those two words threw off the rhythm and made it harder to remember. It's like when we switched from Roman to Anglican and had to add the two extra lines to the Lord's Prayer. I still don't when I say my nightly prayers because of that. Otherwise, I have a greater issue and that's that other than people with children (like yourself), when is the last time you heard the pledge recited? Before we worry about more or less words, let's get people to start saying it again. Oh, well, other than that, how do you feel about Craig+ leaving?
He answered: My reaction to Craig's departure was surprisingly muted and rapid in progression. While I was slightly surprised when I read his letter, I quickly let go of any misplaced feelings of allegiance or abandon. Like "death & dying," I moved through various feelings, but all rather rapidly, and I'm pleased about that. I'm objective about what Craig brought to the "table"; his strengths include grounding us to scripture, and to some degree, patience.
I do believe there are some who are ready to move forward. Not so sure about the body overall but we'll have to gauge that soon enough. I'm a little intense, some times almost charismatic (if I assign the term to myself) and direct, which may put some in the Trinity community ill at ease. While I don't look to have it just my way, I do look to "agitate into action" those content with steady-as-we-sink approach.
I meditated and prayed specifically about the community of Trinity. During this time, I heard my own words from 10 years ago as if intended as an answer to my question. I also came to the clear understanding that a time of uncertainty, anxiety, is a defining moment for the man. I concluded that it is time to stand, fight for the body, and not run. When in the company of my family at Trinity, I honestly feel emboldened. Most of all, I want to yell into the mid-night quiet, to dream, fear not, and build to that dream.
That's how I feel. Thanks for asking. I enjoyed your missive of a few days ago. I hadn't formulated a worthy response but felt your fatherly scolding warranted enough to not go unchallenged.
Naturally, I responded that I was in line with his feelings. Boy, I wish I were still there to share the fight with him.
---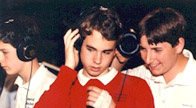 Wednesday, August 14 and I found out that Jeff Marshall and Alli Wong will be getting married in Hawaii in early November. Congratulations! Also, I get a post from Bruce Downsbrough:
Perhaps this was meant to be, although 2 months ago I'd never have believed it if you told me this was going to happen: I've just accepted an offer to serve as VP for Development at the American Boychoir School in Princeton. Not certain of the exact timing yet and I have a bunch of logistics still to figure out but I'll probably be on the job (albeit in some kind of temporary housing) around September 20. Will let you know when I have contact info and more concrete dates. Once I'm in town, we'll have to rendezvous.
---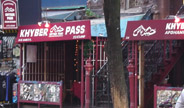 Thursday, August 15 and the Feast of the Assumption. I have Afghani food at Khyber Pass for lunch on St Mark's Place. I've picked up a computer virus. For the purposes of the future record, an e-mail arrived with a small dot in the body of the message. Bryan and I tried to open it last week (a mistake) and I spawned W32/Klez.h@MM. I spend the evening drinking Dewar's Scotch on the rocks and sending email to everyone, warning them about the virus.
Here is a clue; it comes in a pair of posts. One has the wording: "This is a very excite game. This game is my first work. You're the first player. I wish you would enjoy it." Or "Hi, this is a very funny website. I wish you would enjoy it." Either in an accompanying post or in the body of the message is a small dot; don't click on it.
---
Friday, August 16 and I go to Arlene's Grocery at 11 pm to see the Shelley Winters Project, led by my old friend Rick Berlin. And what a great time! I haven't seen Rick in years yet he looks as young as ever. It can't hurt to have such a young band; and what talent!
An incredible show that makes me feel young again and gives me the desire to have my own small club and the ability to publish short run books. [See below for more notes.] Later, Rick writes me, "Awesome seeing you Tony. And catching up. So many war stories under the bridge." I finally arrive home around 2 am, drunk as a skunk and crashing immediately on the couch.
---

Saturday, August 17 and I bring the computer to the store to have its virus cured. On the way home, my hangover requires food and so it's Pangea for a lunch of salad and spaghetti Bolognese … and a couple of glasses of Coka-Cola!
Had I been in Provincetown, I could have seen Jeff + Jane Hudson. See the full story at the bottom of the page. Anyone who saw one of the many performances that I presented at Spit in the 80s know that art and music become one when this amazing couple takes the stage.
---

Sunday, August 18 and having a night with nothing to do and no computer to do it on, I watch television. There is an interesting interview with Paul Kantner, founder of the Jefferson Airplane. He has very interesting points to make and being a lyricist has a great way of phrasing them. One of the more memorable is the comment that the US government has been "making war on" things for decades. But whenever they do, they fail! Consider the war on drugs, the war on homelessness, the war on poverty … and now we're thinking of the war on Iraq. From "When I Was a Boy I Watched the Wolves":
When I was young and low out here in San Francisco, I could rely on the fire of my friends.
Now I can carry a few and I do when I can, we get by however we can.
Me and my friends we roll thru the hills in the nighttime; me and my friends run into the morning sunshine.
---
Monday, August 19 and up at 6 am as I have a temp job. I'm doing research and minor data entry for Salomon, Smith Barney. Still, it's $17 an hour for doing virtually nothing for ten hours! The weather has abated somewhat, so I decide to walk all the way home, which takes about half an hour.
Dinner for me was at Tarallucci e Vino, a bakery turned sandwich and dessert storefront on First Avenue. I have a lovely sandwich of spek and smoked cheese (all sandwiches are priced around six or seven dollars) and a crisp, fruity glass of verdicchio followed by chocolate torte and espresso. All for $18 plus a couple of buck tip.
---

Tuesday, August 20 and back at the temp job. I take myself to dinner at Pangea and have a perfect seared shrimp salad with jicama and mandarin oranges with a glass of Portuguese white wine, followed by angel hair puttanesca and a glass of Spanish red (which Arnoldo generously refills).
He also tells me an alternate story of how the pasta came about. I had always heard that when the prostitutes came back to the brothel at night, the "mother" would make a quick and cheap sauce of fish paste, olives and capers – the produce of Naples. Arnoldo heard that when the Italian husband was at work, the wife would make her "pin" money from whoring and so had no time to make anything other than a quick dish of pasta when he returned at night!
---
Wednesday, August 21 and I normally don't remember dreams, but I had to write this one down. Not only was it a sex dream, but my partner was Elliott Gould! Don't try to figure it out, I can't! I receive a call from the computer store; the computer is ready to be picked up! I bring it up to date and order a Chicago Classic from Pizzeria Uno.
---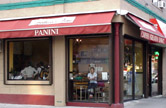 Thursday, August 22 and we're both up around 7 am. I'm excited to have the computer back but there are other matters to attend to (hmm, that reminds me of the language column in last Sunday's Times). I head off to the gym at 11 am. I'm actually seeing results!
I'm watching the Jethro Tull dvd again. And loving it again. Bryan and I return to Tarallucci e Vino for sandwiches. We do enjoy the food, if not the service, which is beyond lackluster. I have a bresaola with parmesan reggiano and arugula, while he has the tuna filet on foccaccia. I also have an extremely large glass of Barolo since the counterman is so confused!
---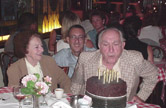 Friday, August 23 and my parents are coming into the city for their birthdays, which are on the weekend. Joining them are my Uncle Emil and his friend Rose, Pat Faraone and his friend Elaine, and two foreign students, Federico (from Milan) and Jean (from Paris). But of course, plans go awry and by the time I get to the bus station, the only people left are Pat and Elaine. I get in the cab with them and go off to 57th Street and Holland & Holland.

By 7 pm, we've all met up at Mimi's on Second Avenue at 52nd Street with Bryan taking the bus from the apartment. There's much frivolity and even more drinking among the gang. The reason we're there is so that Rose can sing along at the piano bar and everyone has a great time, finally leaving around 11 pm.
---
Saturday, August 24 and my mother's birthday. We're both up relatively early and my noon we've decided to check out the Pickle Festival on Orchard Street. Yes, every type of pickle and pickled product is on display; particularly noteworthy is Guss, who has the most famous store around.
By 1 pm, Bryan is hungry and, not knowing where to go, we stop at the first interesting place, the One and One, at Avenue A and Houston Street. It's a traditional English/Irish eatery with Irish breakfast, bangers and mashed, and fish and chips. They indicate the name comes from the one fish and one type of chip. Now, the price seems quite reasonable as I have the Irish bacon omelette with a free mimosa. Bryan has the bangers and mashed but only wants an iced tea. Both are $7, so I'm surprised when the bill arrives for $23! Well, since she made his iced teas by hand (tea over ice!), they were $3 apiece and she gave no indication that there were no free refills. Hmmm, that's a problem!
---

Sunday, August 25 and my father's 79th birthday. In the evening, we walk to the Plymouth Theatre to see Kathleen Turner, Jason Biggs and Alicia Silverstone in "The Graduate." [See further notes at bottom.]
Yes, this is the famous Broadway adaptation of the Dustin Hoffman movie of the late sixties and includes the notoriously naked appearance of Ms. Turner, albeit under dark lighting. And for all that, Jason Biggs is in our line of sight of the sight! Always a robust woman, she looked for all the world like that famous Brancusi bronze!
Anyway, back to the play. I found parts of it interesting but Bryan just thought the writing sub par. I believed it was because it was very dated, and the actors have been doing this for some time, as well as it being a Sunday night after two performances.

As for the performances, Kathleen Turner does a smoldering vamp better than anyone, Jason Biggs was pitch-perfect Dustin Hoffman (not a compliment, really, as he didn't make it his own role), and Alicia Silverstone, well, I don't know how one could grade her considering the character type really doesn't exist anymore. Still, a night on Broadway is a night on Broadway!
As a side note, we notice that Ms. Turner isn't walking very well, especially during the curtain call. I thought she might have twisted her ankle on the shag carpeted stage, but the fact that she's a paid spokesperson for a prescription drug for rheumatoid arthritis might have something to do with it as well. This performance benefitted the Actor's Fund of America.
---
Monday, August 26 and we're up very, very early. It's a rather quiet day, made no less quiet by my desire to lie in the grave. I get to the gym around 11 am, the body needing sustenance while the soul goes starving. I grab a couple of slices of pizza and spend the rest of the day working on the July webpage. I go to the wine store to get a bottle of Fetzer Cabernet Sauvignon (1999, $12) and continue work while having a steak and cheese sandwich from Pizzeria Uno. During dinner, I watch the dvd of Jethro Tull, concentrating on the lines from "Thick as a Brick":
And the love that I feel is so far away:
I'm a bad dream that I just had today – and you shake your head and say it's a shame.
---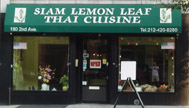 Tuesday, August 27 and an extremely bright and slightly humid day. I wanted to get some pix of Saint Mark's Place for the website, but that combination, and the fact that the boys aren't out at 11 am, means no good shots.
After lunch, I have an appointment with Dr. Cortes as I've had a sore throat and a cough for the last week or so. My blood work has returned and I find I'm still undetectable (for HIV) but my t-cells have actually decreased by 20 to 151. I think stress has something to do with this. I have dinner at Siam Lemon Leaf (beef satay and the crispy duck salad).
---
Wednesday, August 28 and I'm proof-reading at Scholastic for the day. And since it's $20 an hour, why not? So for four hours, from 1 to 5 pm, I'm checking a new schoolbook for them.
I'm back at 6 pm, just after Bryan gets home. He takes an hour nap and then we go to East, a new Japanese restaurant at 71 University Place. I had gotten a 50% off coupon in the mail, so again why not? It's not bad, especially considering the cost, but it's no Mie.
---

Thursday, August 29 and I see Noah and his ark floating by the window. In other words, it's a deluge outside! Still, I have to go to the NYU bookstore for my fall texts. The rain abates around noon so I go to Pangea for lunch (salad and spaghetti carbonara) followed by the gym. I buy another bottle of 1999 Fetzer Cabernet Sauvignon; it was so good the other day that I decided to repeat the feat.
I listen to Paul Kanter/Grace Slick's Sunfighter. I also eat a chicken curry salad that the waiter had mistakenly ordered for me earlier in the day. I continue work on the page until almost 3 am while also listening to Cubanate, PIL's "Home" and Jona Lewie.
---

Friday, August 30 and I am at my parents until Monday. I take the train to Cranford and go for martinis at Jim and Jamie's before dinner with the folks. Jamie was nice enough to give me a bottle of 1999 Ravenswood Zinfandel for my dad. Oh, the Calvin Kleins jeans model is just because we all need some eye candy sometime!
---
Saturday, August 31 and I'm up around 8 am; mom and I talk for awhile before I go to the bank around noon. At 1 pm we go to my cousin Lorraine's for lunch with her husband John and Aunt Virginia. It's a great conversation, particularly about how my grandmother was so far ahead of her time regarding doctor's advice about eating and drinking.
I spend most of the rest of the afternoon picking up my rooms before Art and Dolores arrive around 6 pm. Mom has invited them to join us for dinner at Gerrino's in Hoboken. She has told me about the place for ages; it has a roof garden over-looking New York City.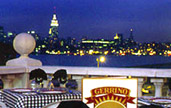 But when we arrive at the restaurant, we find that the new offices of John Wiley & Sons have been built right in front of the restaurant! And considering that the draw was the view and not the food, this doesn't bode well so I start off with two martinis!
As usual, I'm the hungriest, so have an antipasto caldo with a variety of their appetizers, none good enough to write home about. Dad orders some zucchini fritti which aren't bad. For entrées, mom lucks out with the pollo primvavera in light cream sauce, Dolores has the pollo romana with artichoke hears, onion and prosciutto in wine sauce. I decide to have the bistecca venere, which is sirloin steak stuffed with prosciutto and cheese which should be amazing but turns out to be quite bland!
Oh, well, the company is lovely and we go back to the house for grappa and conversation before they leave around 11 pm. Dolores ha been assembling a genealogy of our family, and my father brings out a quite unusual photograph of his mother with his sister, who died at one year old. And, yes, this is a funeral photo of my grandmother Alberta leaning over the child. Quite discomfiting to me, although I hear that was the norm for the time. I'm asleep by midnight.
---
Adelante!
Hombres. Sailors. Comrades.
I know your mind. I know your heart.
I know your answer.
---

For the summer semester, on Monday, I attend Publishing on the Internet, and on Wednesday, I attend Publishing Law at New York University for my Master of Science in Publishing.
---
Rick Berlin Mania! There are many great reviews of the Shelley Winters Project. Other than the one redacted here [read the full review by clicking this] by Stein Hauklan you can find one here.
20 years after he first made his mark on the music scene, Rick Berlin releases what may be his most fulfilled album to date. Having honed his craftsmanship in a variety of bands – most notably Orchestra Luna, Berlin Airlift, and Rick Berlin: The Movie – Berlin has finally found the perfect format for his visions in The Shelley Winters Project, as well as his perfect musical partners.
Widescreen Americana with a penchant for everything from Irish folk rock to Music Hall, from power pop to sentimental ballads, Berlin's world is a highly unique one, yet one where everything refers to something else. And while it seems unlikely that all of this should fit together, the final result is perfect evidence that it does. Excellent and moving, Berlin and his cohorts seem to run through every human emotion to come up with something almost too lovely for words, something that takes in everything but still remain characteristic and individual.
Beautifully conceived and carefully executed, this is Berlin's crowning achievement, and mathematics says the next one should be even better. How about that?
Besides me, there was another fan of Rick's, Daniel, who wrote in his website:
My friend Rick came in from Boston to perform last night. It was a great show!!! His band also has a new album which I have been playing all day long – it's incredible!!! Rick is such an amazing man; he's a brilliant performer and just the sweetest guy. I wish we were able see more of each other. He's one of those people who just has a way of making you feel really good about yourself no matter what's going on in your life ... he makes ya smile.
---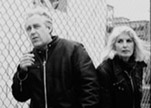 On Saturday August 17, writer and visual artist PIA SCHACHTER presented Jeff and Jane Hudson's band JEFF & JANE at the Schoolhouse Center in Provincetown, MA. It is part of a series of events, each curated by a different artist who has been asked to present another person or situation that inspires them. A muse to many of the Boston School artists, including Jack Pierson, Mark Morrisroe and the Starn Twins, Pia Schachter was also a player in Boston's early punk movement.
Pia says, "JEFF & JANE revive their earlier punk sounds unlike any other band. When I saw them I was blown away; they got a standing ovation. Jeff on guitar rocks harder than ever. Jane on bass is more Kim Gordon then Kim herself. It's amazing how they still maintain the feel that this sound was just invented. They hammer out art punk anthems without ever coming off as old timers reliving their youth or preaching that the former days are more authentic than the current punk scene. This is a must-see for anyone begging for real punk."
Since their first band, The Rentals, defined the Boston art punk sound in 1977, Jeff and Jane have been ripping out anthems with an energy that has awakened a new generation of rockers to the sound that made Beantown famous. In their late 70s - early 80's heyday The Rentals played with The Clash, the Contortions and the B-52's. Rentals hits include 'Gertrude Stein' produced by Oedipus, who is currently the station manager of Boston's WBCN-FM radio station.
In the early 80's, Jeff and Jane regrouped as an all-synthesizer band. Trailblazers of the early Electronica movement, they appeared with PIL, Duran Duran, Alan Vega, and Ministry. Recordings from this period have been recently re-released on "Flesh", a CD from Daft Records - Belgium. Zillo Magazine called "Flesh" the "Missing Link of American Electro-Avant Garde".
When they aren't bending ears, Jeff and Jane blow young minds as legendary video and art teachers at Boston's School of the Museum of Fine Arts.
Forever the tastemakers, Jeff and Jane have seized the perfect moment to bring back the classic punk sounds they created. Now with drummer Chris Botlho (formerly of the Modeles), Jeff's guitar and Jane's bass are proving that punk knows no age barrier.
---
by Gayle Fee and Andrew Miga
Saturday, August 17, 2002: Former WBCN-FM disc jockey Mark Parenteau faced first-degree child sexual abuse charges in Superior Court in Washington, DC, yesterday after he was arrested for having sex with a 14-year-old boy.
The 52-year-old Boston rock radio legend, who was on the air in Boston for more than 20 years, was arrested at his home Wednesday after the boy complained to police that Parenteau had sex with him three times in the disc jockey's D.C. apartment.
Parenteau, a program director for XM Satellite Radio Inc. in Washington, was confined to a halfway house, pending his next court appearance. He was ordered to surrender his passport, submit to a drug test and avoid contact with children under 16.
Parenteau, a fixture on the Boston radio scene, did afternoons on the old Rock of Boston for more than 20 years until he was let go in 1997. His first gig in Boston was at the old WCOZ-FM. After parting ways with 'BCN he did fill-in work on WRKO-AM and WTKK-FM and a stint at Q104 in New York.
Parenteau's former colleagues were dismayed at the news of his arrest. "If he did what they say he did, it's really, really poor judgment," said longtime 'BCN morning man Charles Laquidara from his home in Hawaii.
Parenteau is scheduled to return to court on Sept. 10.
---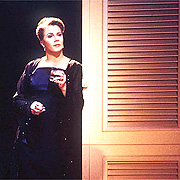 Redacted notes about "The Graduate"
The Graduate is the adaptation by British playwright Terry Johnson of the famous 1967 film, set in California in the 60s, about a young man fresh out of college who isn't ready or willing to immerse himself in conventional life and instead embarks on a dangerous sexual affair with his girlfriend's mother. This production comes to us from London, where Kathleen Turner made a stir by appearing nude (very briefly) during the seduction scene. Turner plays Mrs. Robinson, the role originated on film by Anne Bancroft; Jason Biggs has the Dustin Hoffman part.
Casting notes: Kelly Overton replaces Alicia Silverstone beginning September 3. Linda Gray ("Dallas") replaces Kathleen Turner during vacation, September 17–22.
Clive Barnes in the NY Post said, "Mike Nichols and his screenwriters marked and commemorated the change in the 60s to a more open, wilder America in which authority was questioned. This manipulative and predatory play does no such thing. Turner is unzipped, bullying and pitiless fun as Mrs. Robinson."
Mike Denton in the nytheatre.com review said, "With the arrival at the Plymouth Theatre of The Graduate, Broadway reaches its nadir. The Graduate, has a crass cynicism in which reliance on a brand name substitutes for wit, style, or intelligence. When it's not lewd or disgusting, The Graduate is mostly extremely dull as it trudges through the events but not the feelings of the famous screenplay by Calder Willingham and Buck Henry."
---

© 2002 Anthony Francis Vitale for T.V.O.D. throughout the known universe
---